Body Wraps
Herbal Wrap

75 minutes | 99.00
For this treatment, blankets are soaked for hours in herbs rich in healing the body. The blankets are placed in an alpha capsule and you are cocooned in the herbal blankets for 30 minutes. The herbs have a detoxing effect on the body which provides healing for aching and tense muscles.
Seaweed Wrap

90 minutes | 135.00
This wrap provides a youthful glow to the skin. A mixture of powerful seaweed, vitamins, minerals, and antioxidants is applied to the skin and then a wrap is applied. You will be placed in the environmental capsule for 30 minutes which has infrared heat, aromatherapy, vibration, and steam. A rush of oxygen to the tissue leaves the skin firmed, hydrated, and revitalized.
Swedish Clay
90 minutes | 135.00

With Cellulite Treatment | 170.00
Want to drop 6 to 20 inches from your neck to your ankle? That is exactly what this treatment will do. We use nutrient-infused clay from the Dead Sea that pulls toxins out of your fat cells. Then, we use the Egyptian art of pressure wrapping to tighten and cleanse the body. Finally, you will go into our Alpha Capsule where aromatherapy, infrared heat, vibration, and ionized air will give you a relaxing and rejuvenating experience.
Parafango

120 minutes | 185.00
Parafango is an exclusive blend of mud from the ancient sea beds of southern Europe. Rich in organic minerals, plus pure paraffin wax provide an effective, luxurious body treatment. Warmed, it glides onto the skin sealing in the nutrients that temporarily increase circulation.
Body Wrap with Cellulite Treatment

120 minutes | 180.00
Body Treatments
Ultrasound Body Cavitation

Stomach & Waistline
| 330.00 – 3 sessions | 630.00 – 6 sessions | 950.00 – 10 sessions
Back
| 300.00 – 3 sessions | 600.00 –            6 sessions | 900.00 – 10 sessions
Buttocks
| 270.00 – 3 sessions | 510.00 –        6 sessions | 800.00 – 10 sessions
Upper Arms
| 225.00 – 3 sessions | 420.00 – 6 sessions | 650.00 – 10 sessions
Legs & Thighs
| 360.00 – 3 sessions | 690.00 – 6 sessions | 1,100.00 – 10 sessions
Neck
| 40.00 – 15 minutes
Eye Area
| 40.00 – 15 minutes
A non-invasive body contouring treatment that's used to break apart fat deposits in the body and is an effective alternate to surgical liposuction with no downtime. Ultrasound waves are sent deep into the layers of your skin, causing a disruptive vibration. Fat cells then break apart from each other and are dislodged from your dermal layers. After a few days, the fat cells are absorbed by your lymphatic system and drained as waste from your body. A complimentary consultation is required.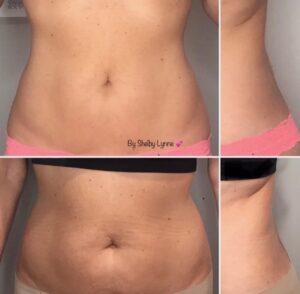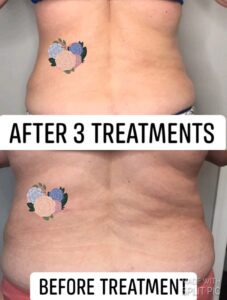 Le Fleur Cellulite Treatment
135 minutes | 259.00
The highly sophisticated botanicals, electrolytes and creams are tailored specifically for cellulite, detoxification, and contouring of the body.
Endermology/GX99 Cellulite Reduction
20 minutes | 65.00
10 Treatments | 525.00
We use the GX99 Endermatic System which is used by thousands of spas in the USA, Europe, and Asia. This vibratory system works by firming body contours and eliminating long established fat deposits. Dollar for dollar this treatment gives superior results for the money, improving skin texture, elasticity, and muscle tone. 
Lymphatic Drainage

60 minutes | 115.00
We all have over 3,000 lymph glands which hold toxins from the body. Unfortunately, we have no pump to remove the toxins to the excretory system. The advanced Myo-pulse uses electro-stimulation to help move toxins out of the body, producing a healthy lymphatic system. The Myo-pulse is a soothing, relaxing, and safe experience.
Liver & Organ Detox

60 minutes | 115.00
The liver and kidneys are the filtering plants of our body. To cleanse these organs which are so important to health we use the Myo-pulse technology and botanical creams tailored specifically for organ detox. This state-of-the-art computer reads the tissue and interprets the bio-impedance, responding with precise levels for maximum cellular cleansing. This treatment is soothing, relaxing, and safe.
Foot Detox
30 minutes | 49.00
10 treatments | 365.00
The internal cleaning of the foot is believed by many to clean the liver and kidneys resulting in less fluid retention, improved memory, greater bladder control, stronger immune system, relief from chronic headaches, menstrual cramping, arthritis, and other pains by reduction of inflammation. 
Paraffin Dip for Hands and Feet with Massage
30 minutes | 47.00
Stomach Slimming with Ultrasound
60 minutes | 135.00
Alpha Capsule
Alpha Capsule
30 minutes | 55.00
This unique piece of equipment from Sweden has 12 pre-programmed treatments. Our favorite is the detox treatment which achieves its purpose with aromatherapy, ionized air, vibration and infrared heat. When coming down with a cold this is a great way to eliminate toxins.
Facials
Microdermabrasion Facial
60 minutes | 135.00
4 treatments | 500.00
The ultimate facial experience designed to address fine lines, wrinkles, sun damage, uneven pigmentation, clogged pores, skin texture, acne, dull skin, and minor scars. We start with a relaxing deep cleansing and gentle steam mist followed by microdermabrasion. A customized mask will be used to address your unique skin care needs. This treatment will revitalize your appearance leaving you restored and your skin bright and renewed.
Add a recommended LED LightStim Treatment – $30.00
Add a soothing Seaweed facial mask to calm the skin – 35.00  
Le Fleur Anti-Aging Facial

120 minutes | 259.00
A favorite among our customers. We use the Le Fleur equipment which energizes the cells by reading them and feeding back needed energy. Clients have reported that their friends thought they had surgical work done. This treatment does wonders!
Zero Gravity Anti-Aging Facial
Zero Gravity Smooth & Clear Treatment
60 minutes | 89.00
This phototherapy comes in two forms – red and blue. For anti-aging, we use the red therapy to stimulate collagen and elasticity, reducing fine lines and wrinkles. The blue therapy is used to fight bacteria, clearing the skin and reducing the frequency of breakouts.
Willow Pond Classic Facial
60 minutes | 79.00
This classic facial is customized specifically for your skin care needs. You will experience a deep cleansing with exfoliation and relaxing steam mist. It includes a pampering facial massage and tailored mask to rejuvenate and illuminate your complexion.
Add LightStim LED Light Therapy for more effective treatment – 30.00
Enhance your facial with a soothing seaweed facial mask – 35.00
Sinus Relief Treatment
30 minutes | 45.00

Add to any service | 30.00
Discover relief from sinus pressure and headaches due to allergies or colds with this therapeutic massage. Lymphatic and pressure-point techniques are combined with a therapeutic essential oil blend to open and drain blocked passageways. This treatment pairs well with your favorite facial, massage, or reflexology.
Back Facial
30 minutes | 45.00

60 minutes | 75.00
Treat your back to a cleansing, soothing massage, exfoliation, steam, and mask. We will extract any blackheads leaving your back perfect for summer or any time of the year. A great treatment for those who suffer from back acne!
Gentleman's Facial
60 minutes | 79.00
This is a no fuss facial formulated specifically for men. To start , a relaxing deep pore cleansing and exfoliation with steam. A facial and neck massage to follow and ending with an individualized face mask.
Add on LED Light Therapy for specific skin care needs – 30.00
Signature Facial                                                                                                                               
60 minutes | 115.00
Peels
Glycolic Detox Peel
60 minutes | 135.00
The skin you want is under the skin you see. Reveal it with our powerful, non-surgical acid-hybrid peel. Undo years of visible damage and premature age signs without redness, flaking, or actual "peeling" of the skin you would get from a traditional peel. Our advanced peel technology removes the uppermost layers of the skin at the microscopic level, to immediately tighten, unclog pores, improve lines, and leave skin with a younger, velvety-smooth texture. Plus, you'll benefit from detoxifying activated charcoal to draw out aging impurities. Best results are achieved with a series of treatments – your Esthetician will choose from two different glycolic acid levels to meet your skin's needs each time.
Add on a Customized Soothing Mask – 25.00
Are your hands or neckline prematurely aging you? Our powerful, non-surgical, chemical peel will remove the uppermost layers of aging skin on the hands and chest, reversing years of aging damage. You'll see smoother, brighter, younger-looking skin – with ZERO pain, flaking, or downtime.
Add on Chest – 95.00
Add on hands – 65.00

Glycolic Detox Ultra Peel Series

60 minutes, Series of 4 treatments | 500.00
Your skin's introduction to our Glycolic Detox starts here with this series. Your Esthetician will choose from two different glycolic acid levels to meet your skin's needs. Progressively increasing the strength. The treatment includes a relaxing steam mist, enzyme treatment and is followed with a calming mask.
Note:  To maximize benefits, we recommend all peels be done 10 days apart.
Massages
Deep Tissue Massage
60 minutes | 85.00
90 minutes | 115.00
Reflexology
30 minutes | 49.00
60 minutes | 79.00
Aromatherapy
60 minutes | 85.00
90 minutes | 99.00
This therapeutic massage utilizes reflexology:  application of pressure and massage to specific areas of the feet or hands correlating to specific parts of the body. This massage also includes your choice of aromatic essential oils which are added into the massage oil.
Ear Candling

60 minutes | 75.00
This treatment originated with the Ancient Romans. A vacuum is created facilitating the removal of ear wax, bacteria, moisture, and allergens from the ear canal. Two candles are used in each ear. Massaging is done to facilitate the removal of the ear wax. This treatment does not burn or hurt.
Hot SYNERGY STONE™ Massage
60 minutes | 99.00
Hand-crafted and contoured, heated SYNERGY STONES are designed to soothe, sculpt, and knead aching muscles, providing a warming, therapeutic massage sensation that calms the senses and results in a deeper state of relaxation. 
Himalayan Salt Stone Massage
60 minutes | 99.00
90 minutes |125.00
This innovative healing technique uses warm salt crystal stones to ground and balance the body's electromagnetic field, central nervous system, and meridians. Salt crystals from an ancient primal sea beneath the Himalayan Mountains are hand-carved into massage stones that gently soothe away the accumulation of stress, tension, and pollutants, bringing the mind, body, and spirit into balance.
Hot Stone Massage
60 minutes | 99.00
90 minutes |125.00
Smooth stones are heated and used to massage the body, relaxing the  muscles and providing a deep sense of peace and tranquility. This massage relieves chronic pain and reduces stress.
Infant Massage
20 minutes | 30.00
Learn to give your baby a beneficial soothing massage. This is an ideal way to spend an enjoyable, relaxing time with your little one.
Pregnancy Massage

60 minutes | 72.00

90 minutes | 93.00
A prenatal massage is designed to relieve the discomfort that is prevalent during pregnancy. A must have relaxation experience for pregnant women!
Reiki Massage
60 minutes | 72.00
90 minutes | 93.00
Reiki is used to relieve pain, reduce stress, strengthen the immune system, rebalance organ function, and eliminate harmful toxins. Besides all these benefits, it also restores the body's own healing mechanisms.
Salt Scrub
30 minutes | 53.00
A great treatment for dry skin, salt scrubbing gets rid of dead skin cells. Besides being healthy, this enjoyable treatment removes toxins, leaving your body extra soft and relaxed.
Sports Massage
60 minutes | 72.00
90 minutes | 93.00
A must have treatment for athletes! It comes with a pre- and post-sport appointment to maximize performance and range of motion.
Swedish Massage
60 minutes | 72.00
90 minutes | 93.00
This technique uses effleurage (gliding), petrissage (kneading), friction, tapotement (rhythmic chopping), and vibrational strokes in a purposed order. This full body massage is designed to soothe and relax.
Therapeutic Massage
60 minutes | 72.00
90 minutes | 93.00
This treatment utilizes the combination of modalities of the massage to target a client's individual needs while promoting full body relaxation. This is a customized massage just for you.
Hot Lava Shell Massage
60 minutes | 89.00
Escape into relaxation and melt your worries away! Perfect for someone who would like a soothing and relaxing massage that melts away tight muscles while providing a deep sense of well-being. Discover what you've been missing with this heated massage.
Laser Acupuncture Massage
60 minutes | 99.00
Add Dry Brushing, Tuning Forks, or Chakra Crystal Alignment – 15.00 each
Laser Acupuncture
Pain Relief
85.00
Soft cold laser acupuncture has been practiced widely in Europe and Asia. The USA is catching up. The number one reason for visits to healthcare provider is pain. Laser is an excellent way to reduce pain and release muscles without needles. Laser acupuncture has been in existence since 1951.
Stop Smoking

60 minutes | 175.00
Our spa combines Laser Acupuncture and the Alpha Capsule to give you the best treatment to quit smoking. This program has a 95% success rate when you are psychologically ready to quit. The capsule removes the nicotine out of the pores of the skin and the laser removes the addictive qualities of smoking. This treatment never ceases to amaze our staff because it is so effective.
Weight Loss
Weight Loss
3 treatments | 360.00
Laser Acupuncture for weight loss is a 3 treatment program with 5 to 7 days between treatments. This is great at curbing your appetite and reducing cravings. The laser has absolutely no pain and no side effects. We use it for weight loss, but it is also great for pain.
Alpha Capsule
30 minutes | 55.00
10 treatments | 375.00
The Alpha Capsule increases your metabolic rate and burns calories during and after treatments. You will feel and look wonderful.
The Standard Process
Please call for prices
Standard Process is a great 21-day detox program which also promotes weight loss.
Ideal Protein

Please call for prices
The Spa at Willow Pond's owner and founder's favorite is Ideal Protein: she lost 89 pounds in 5 months! The program works by allowing the pancreas to rest and heal. It is based on eating highly absorbable protein and low carbs. This way of eating is definitely a no-brainer and you feel so healthy on the program.